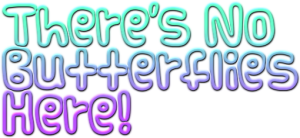 I was recently asked how do you stay focused on your writing with all of the other distractions around us. Wow, not as easy to answer as I thought. But finding the discipline, the focus, to write is a must if you are serious about a writing career or else your dreams will go up in a puff of manuscript smoke.
Oops, be right back, there's a monarch butterfly in the garden!
While somewhat tongue-in-cheek, distractions such as butterflies, screamo bands, and ice cream all too easily take us away from our story. Somehow we must find ways to drown out everything distracting (families included) and pound loudly on those computer keyboards forgetting and ignoring everything else.
Rearrange The Deck Chairs
If you can, change where you write. You don't need a lot of space, maybe just a small Harry Potter kind of bedroom that lets you set up shop with computer and paper close to hand. Really, that's only about two feet across and maybe three feet deep, with you included.
But you need your own space, your own little corner in a round world to create your story, song, or blog post. And with any luck it will have a door on it where you can hang a bright neon "Do Not Disturb" sign on the door.
And keep your space tidy; learn to unclutter your physical world and you will find it easier to enter your mythical land and slay those dragons or conquer the aliens or face down a grim gunfighter on a dusty street that nobody remembers. You may not have a lot of space to write so you need to make sure that what you have is sacred and not to be ridden with rubble.
Have A Road Map Or Get Lost
If you don't know where you're going with your writing then you should just go ahead and write "The End" now. Sorry, but its true! Few of us are gifted like the Big Bang Theory's' Sheldon Cooper who never forgets an event and can bring an indomitable IQ to every task at hand. Nor are we a Mozart who often only wrote one perfect draft the first time he picked up his feathered quill and parchment.
Whether you use index cards or chapter outlines to organize you brilliant scraps of inspired notes you need to find a way that works for you to put those into a structured story. I would argue that this is regardless whether you are writing a poem, a short story, or a novel. Without a logical plan you won't give your readers the pleasure of a sequenced tale.
And The Heck With The Howling Wolves
You hear them in your mind every time you sit down to write:
I'm not good enough.

No one will ever read this.

What's an adverb and what the heck is conjugation!
Far too often we as writers have fears that are not real BUT are beatable! We can learn our craft and improve upon our writing. Shoot, with all the tools available online nowadays there's no reason not to be learning new things about writing and understanding how to write for our readers. As an example, look at your favorite websites. The authors know how to keep bringing you back because they know who you are (he's behind you now). And they know how to write what you're looking for.
So let the wolves howl and lament, they're way out on a hill and only come out at night. So you write during the day, you write what you're passionate about, you write and you don't worry about what the critics and naysayers think. You quiet those howls and write for your readers…that should dispel your fears.
OK, now I really have to go…there's now a swarm of butterflies in the garden (I Googled what you call a bunch of butterflies, BTW).