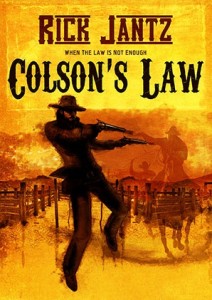 Colson's Law tells the story about the infamous gunfighter, Rad Colson, who is hired to escort a preacher and his daughter to the West. Two years previous, Rad had been gunned down and left for dead. Now he dreams about that battle every night in his dreams and now hides in New York, nursing an ever present bottle of whiskey.
Only the attraction of an emerald-eyed heiress persuades Rad to return to the land that had witnessed his defeat. With mounting opposition against her, the heiress attempts to settle her affairs and pleads with the drunken gunfighter to reform himself and strap his twin six-guns on to help her. The conflicts of both can only be settled by Colson's Law.
Setting
In 1890, Wyoming Territory was to become a State within the Union with the city of Cheyenne serving as its capital. This was through the energetic work of such prominent men as Joseph Carrey and Francis Warren. Rumors, however, flow freely where men mix and thus there were those willing to arrange events to their advantage, using whatever means necessary to achieve their ends.
The story begins in New York but, upon hearing word of Victoria Carpenter's death, her estranged husband and daughter must now travel to Wyoming and assert their claim on the ranch she left behind, The Vic.
Characters
Rad Colson: The main character was a well-known gunfighter and had the fame and notoriety that came with that. When he is defeated at what he does best, the ghost of that gun battle haunts his dreams. He turns to whiskey to forget but the dream never goes away. Recognized for the Western man that he is, he's asked to help the Carpenter's go West and claim their inheritance. In helping the heiress, he learns that strength is not just who you can beat in a gun battle but the importance of right and wrong and how being a strong man in a strong country is about standing up for what you believe in.
Wynn Gruber: Is the Director of the local Stock Association and with Wyoming soon to become a State and the National Stock Association looking for a new Director, he will do whatever he has to do in order to get control. He's a big man and is used to getting his way by brute force and violence. However, he finds out that there is someone even more cunning and vengeful than he ever could be.
Mary Carpenter: The young heiress who must return to the West to take possession of the ranch her dead mother left her. Mary has been helping her father out East with his tent-meeting church and is responsible for hiring and feeding the men who set up and take down the tent. When she goes West she finds that she is now responsible for the people who work for her and she questions her ability to do so. She convinces Rad that she needs his guns to establish law and order the only way the West understands: with faster guns and a willingness to stand for what's right.
Jomack: A gunfighter in his own right, Jomack works for Wynn Gruber but it quickly becomes evident that his loyalties lie elsewhere. He is a man driven to kill and who is willing to do so whether he is paid or not. Insolent and malicious, Jomack's one redeeming quality seems to be that he won't shoot women…unless they shoot first.
Ira Carpenter: Mary's father is a preacher who speaks with a stern voice but who believes everyone can be redeemed. Recognizing that his current life is not the best for his daughter, he returns to the West to help her settle her mother's affairs. He quickly recognizes that Colson is the man that can ensure their success.
Corky: Hired in New York to help the Carpenter's trip to the West, Corky is a fun-loving young man who is awed and shocked by the sudden violence and death that the frontier can bring. But he proves he's up to the task and quickly devotes himself to protecting the young heiress.
Some Tidbits About Colson's Law
The book speaks to good versus evil: when evil-minded men and women attempt to take by force something that is not theirs to have someone must be willing to stand up and say, "No!"
Rad Colson must forgo his alcohol addiction to help a young heiress claim the ranch that many others believe should be theirs. Using his skills as a gunfighter and watching her determination grow in the face of adversity they must try and defeat the aggressive plans of others; sometimes good people have to use violence in turn to ensure justice is honored.
In addition to the gun battles that are brewing in Wyoming, Colson's Law is also a love story of a strong man turned weak who then must reform himself and become an even stronger man. It is also the story of a young, naive woman who becomes strong as she learns how to make decisions that affect others, especially the men who now work for her. It takes strong people to live in a wild, untamed country and Rad and Mary must prove that they are up to the task.
The title speaks to one man's independence and willingness to use his battle experience to make right what others have done wrong. His law is, in fact, the law of society at a time when society appears lawless.
Who Should Read This Book
The book is written in a style similar to Louis L'Amour who enjoyed longevity and success as a Western writer. If you like fiction that includes gunfighters, action, mystery, and even love then this book is for you.
Also, the story is engaging and about real people facing real problems and shows how they solve these problems by finding and remaining true to their strengths and character.