The dream of every writer — to become published. More than 25 years in the making (see explanation below) my first full-length novel will soon be released on Amazon. What an incredible feeling!
Like many other writers I've always had an underlying passion for the art so I could share my ideas, beliefs, and ways of thinking through the written word. Images of scenes and characters often haunted both my waking and sleeping hours. Many notebooks have been filled with ideas, plots, and subplots. This was just something I knew I needed to write.
And now, the picture on the right shows you my first success; not financial but creative. Following your vision and bringing it to life in a book is a success that only writers can know.
My Vintage Brand – It's Been "Aging" For 25 Years
The novel was written in the late 1980's but was placed "on the shelf" so to speak because of other choices I made. You know the ones, marriage, kids, home, career. Well, things change after you no longer need to change diapers and your teens are too cool for you. And my wife has her things that she likes to do (it's great being in a comfortable marriage).
So guess what that means to an aspiring writer? You got it…time to get published.
Why A Western? Haven't They Died Out?
First of all, I've read Westerns all my life. When I needed to escape for a few hours (maybe a day) I would curl up with one or two of my favourites and then one book led to another and then another…until I re-read most every Western on my shelf. I suspect I've read them all at least 5 times over the years.
Reading is a writer's job and reading in your chosen genre is how you develop and hone your skills to write for that genre.
My personal favourites are Louis L'Amour, Zane Grey, and Max Brand…in that order. And after spending hours in their Western settings and understanding their characters it just made sense that I would want to write as these great authors wrote.
Enter: Colson's Law
After coming up with my initial ideas, some really cool characters and scenes, and then deciding where this story would take place I created my outline Drafting it out in columns this way allowed me to see the story progress and make sure I had the flow that I wanted.  It also allowed me to go back and forth between chapters to ensure the story and the characters remained consistent.  (Can you see the old yellowed tape – 25 years:)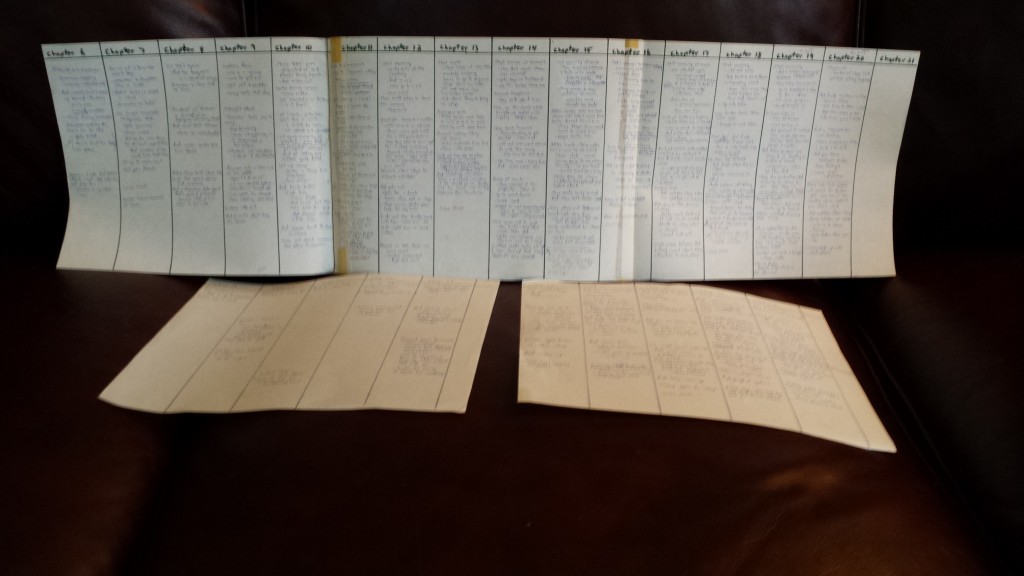 Then I created the Chapter by Chapter details.  This was more in depth compared to the column outline above as it allowed me to really get into the nitty gritty of each chapter.  The column outline was the visual that was tacked to my wall so I stayed on track but the detailed outline below let me flesh out the characters, the settings, and even some of the dialogue.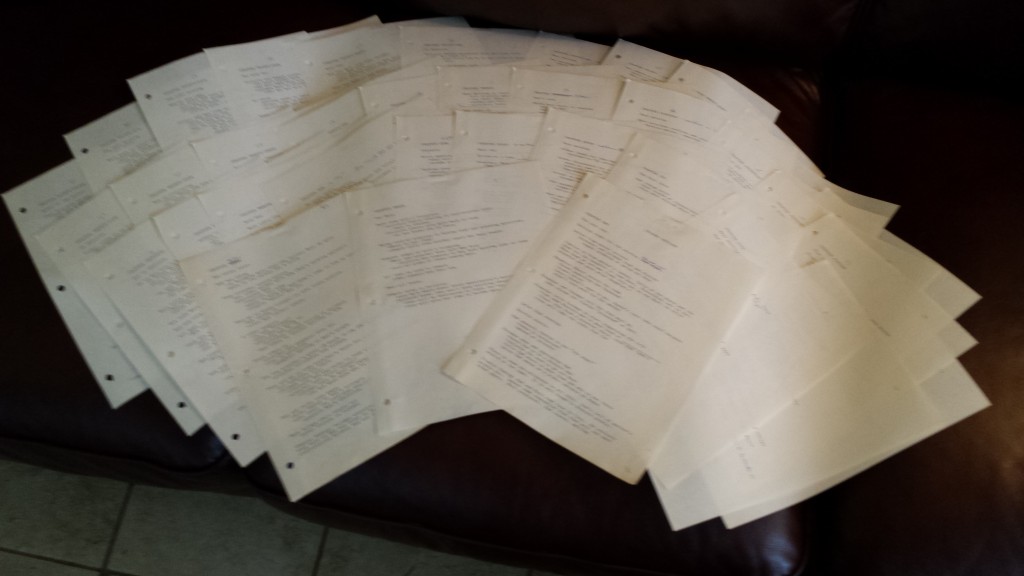 From there the manuscript was written on an old computer and then printed out. Good thing I had a hard copy because it was the only thing that survived the 25 years.  This copy is double-spaced and resulted in just about 500 pages.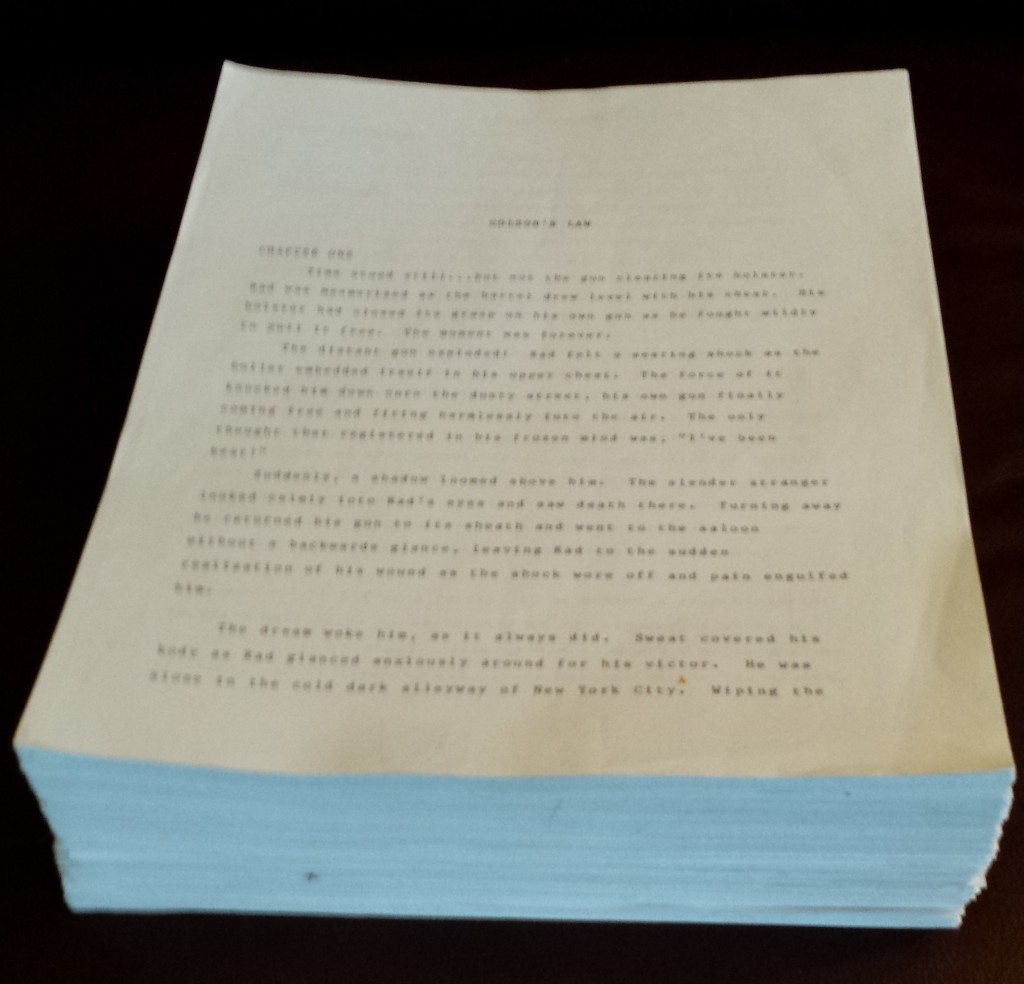 But…now I needed to re-type the whole thing so I could get it ready for submission to Amazon.  And not being a fast typist this took me a few months with everything else on my plate.  But I got it done and now time to move on to getting it ready for publication.
Now to write a good back cover blurb that would capture the essence of the book (and be thinking like a promoter as a I wrote it).  Writing your back cover is one of the most important things you must do for your book.  You have a few short paragraphs to let the potential buyer know what the book is about.  Don't embellish the story but put some zing in your promotion to grab their interest and say, "I gotta have this book."
———————————————————————————————————————————————————————————
Time stood still…but not the gun clearing its holster. Rad was mesmerized as the barrel drew level with his chest while his own gun refused to come free. The distant gun exploded! Rad felt a searing shock as the bullet buried itself somewhere inside of him. The only thought that registered on his mind was, "I've been beat!"

Defeated, ostracized and now in New York the infamous Rad Colson has become a forgotten legend in the West that he once ruled. But now a pair of emerald-green eyes are pleading for his help to escort her back to the land of his undoing and protect her so she can claim her legacy, the Vic Ranch, the largest ranch in Wyoming Territory.

Rising defiantly from the bottom of his whiskey bottle, the gunfighter sets a determined eye on the country that once jeered him and seeing the mounting opposition against the young heiress, straps on his six-guns and takes over where the law left off. Wyoming will be shattered by Colson's Law!

——————————————————————————————————————————————————————————-
To Market To Market
OK, it's been re-typed, edited and proofed…now what?
I did what is proving to be very smart of me.
Book Designer – I had done some research earlier and chose to go with Jeanine. I had carefully checked out her website, JH Illustration, and was truly amazed at the book covers she had already created for other writers. It became a no-brainier to contact her and see if we could work together. We could…we have…and the book cover you see above is the result of her creativity as she worked with me to produce the kind of cover that I envisioned.
Well worth the reasonable price she charged and I'm very thankful for what she has given me so I could have a book ready for submission as well as have copies of the cover that I can use for promotional purposes. Thanks, Jen!
Book Promoter – years ago I began following Nick Wale on Facebook and even though we weren't working together (yet) we interacted and got to know each other. I even got to meet his wife on FB before they were married (we kind of gave Nick a hard time but it was all in fun).
So who did I turn to when I was ready for a book promoter…Nick Wale of Novel Ideas!  I let him know that my book was ready for publication and he immediately set up a Skype call and walked me through what he could do for me and how we would get my book promoted and ranked.
As of the date of this post we're in pre-launch mode and I've found I can totally trust the path he's going to take us on. Thanks, Nick!
Now I'm A Patient Guy But…
After this many years, and wondering now why I didn't do this 25 years ago (other than the fact that the internet was just a twinkle), it's time for me to make my mark on the Western scene. If you've been here before you know what I'm experiencing. If you have yet to publish DO NOT GIVE UP ON YOUR DREAM! My wait will soon be over and there's nothing like it.
The book's success has already been reached…it's published. And, like any writer, I now hope that readers will find it to be the book they were looking for and enjoy the story. And if that's successful then the money will follow!
I am very, very excited and contented at the same time. I can now say: "I did that. There's my book for everyone to see." And now…time for the next book.