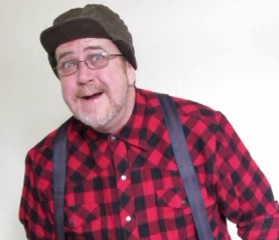 Twas a night around Christmas and all through my shack,
not a critter was stirring, not even this quack.
My wool sock were all tethered to the chimney with twine
cuz I knew that old Santa liked to wear mine.
My mule was nestled all snug in his shed
with visions of alfalfa running amuck in his head.
My hound in his doghouse and I in my bed
had settled to snoring to wake up the dead.

When out in the forest came a passel of sound,
I fell from my bed and hit my noggin on the ground.
Away to the window I flew like a hawk,
tore open the shutters and asked, "What's up doc?"

The moon on the crest of the fresh-yellowed snow
didn't help me to see what went on down below.
When what to my watery eyes did appear
but a little red wagon and a whole bunch of deer.

There was that pudgy old twirp, I knew him so well.
I heard he lost weight but I couldn't tell.
They came charging like wolves when they've spotted their game.
Chubby whistled and shouted and called them by name.
"Now Dasher, now Dancer, now Prancer and Vixen,
on Comet, on Cupid, on Donner and Blitzen.
To the top of the cabin or else down the street,
Now dash away, dash away, just get off Santa's feet."

So up on my roof they came with a bound,
They landed so hard they woke up my hound.
And then in a twinkle, I heard on my roof
The sliding and falling of each little hoof.

As I pulled in my head and let out a sob
down the chimney he fell, he's such a doorknob.
He was got up in fur from his head to his toe,
why he's so abnormal, nobody knows.
A whole sack of toys he flung on the floor
I think he just robbed a dee-partment store.

His eyes, how they twinkled, his dimples how merry,
guess I got the pits and he got the cherry.
His little chapped mouth was drawn in a grin
and underneath that beard he dad a double chin.
He had a broad face and a stomach not small
so when he turned sideways he hid the whole wall.

So I called out my dog on this obese old fellow,
one look at him and Santa turned yellow.
They ran round and round, I used Santa as bait,
I'm sure on that night he lost him some weight.
I laughed til I cried it was funny alright,
Santa got no treat from me on that night

Then I called off my hound and opened the door
and said to Saint Nick, "Come back here no more."
And laying his fingers upside of his nose
his manners were poor, there the neighborhood goes.

He sprang to his sleigh, to his team gave a whistle
and screamed when he sat on a spike of a thistle.
But I heard him exclaim as he drove out of sight,
"Merry Christmas to all but to Isaac, go fly a kite."